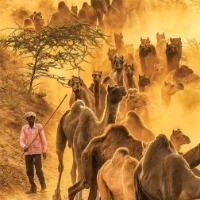 HOW CAN YOU HELP
People for Animals, Sirohi has got the distinction of establishing the first and largest camel- rescue centre in India. It's but natural that the state animal of Rajasthan should have a dedicated space for its health-care in the State.
Infected camels rescued from all over the country, especially illegal trafficking (mostly for slaughter) are invariably rehabilitated at PFA Sirohi.
PFA Sirohi needs your help and support, we urge camel-lovers from India and around the world to support the welfare.
We have 1000+ camels which would come to the camp for donations to support the cause. Please find the appended details. We highly request all the good Samaritans to contribute to the cause. A monthly donation of Rs.500 or 1000 would be much appreciated and make a huge difference in the lives of numerous animals. Your support would help us take up more rescues, reduce the cruelty cases and would ease the suffering of animals.
Drought looms! All animals need us!
Compassionate for living beings of all kinds makes the world a better place. No living being should live in fear, hunger or thirst. And, we as humans have the power to help each living being. And, here at PFA Sirohi, the only animal care organization in an isolated region of Rajasthan, we are helping various vital water projects for the safety of wild animals of Aravali hills, including panthers, leopards, nilgais, wild cats, rabbits, peacocks, and more. During summer temperatures, wild animals face dehydration and they are left to die in such terrible conditions and this project has saved many lives. Many of the groups we support have water bowls for community animals (dogs, cows, birds), and now we have the help of wildlife as well!
Summer is challenging, all the groups are struggling to keep shelter animals healthy and support in the often extremely oppressive heat for surrounding street animals. Drought looms! All animals need us! During March to June in the forest area, PFA Sirohi identifies few watering points with help of the Forest department. We started watering the facility from 29th March 2018 it will be continuing till the monsoon comes! Daily 6 tanks of water will be supplied. This event has been organized for the last 7 years with the regular schedule. This project is in the isolated area of Rajasthan, but PFA (People for Animals) Sirohi is helping with vital water for wildlife!